Blackletter font is also known as Gothic Letter in some other countries. It's the type of font used in Western Europe from around the 12th Century until the 17th Century. Blackletter font was also used in Denmark until 1875. As you can see, the Blackletter font is quite popular. So, what is blackletter font?
Is it identical to the modern blackletter font? In this article, you will see what blackletter font, blackletter font examples, and characteristics of blackletter font.
What is Blackletter Font?
Blackletter font is an old font with names such as Gothic Minuscule, Gothic Script, Textura, and many more. This group of letters is named so because it contains Latin letters with breaks in the curvature of the letters, either in part or in the entire design.
The break arises from a sudden dive when writing certain parts of the letters. In contrast, the letters have perfect curves. It is not breaking, like Antikua, created by flowing and smooth writing movements. Blackletter font itself is derived from Carolingian Minuscule.
History of Blackletter Font
Blackletter developed from Carolingian Minuscule as literacy rates increased in 12th-century Europe. Carolingian is a typeface used for formal writing in European manuscripts of Latin letters. The Carolingians continued to develop, first introduced during the reign of Charlemagne in 800.
Many universities were established, and each produced books for business, law, grammar, history, and so on, not only books on religious themes, which generally used broken font predecessors.
The books need to be produced quickly to meet market demand. Carolingian letters, while straightforward, are pretty time-consuming and labor-intensive to produce. The wide font size also takes up a lot of space when written.
As early as the 11th century, another form of the Carolingian letter was being used, and by the mid-12th century, another form of the letter, which allowed for faster writing, was being used in northeastern France and the lowland countries.
Modern Blackletter is one of the newer fonts in blackletter type. They were created by contemporary type designers who wanted to revive styles from the past with new, expressive forms and techniques.
They are always instrumental to the overall look, even though only subtle blackletter elements are sometimes suggested—a good choice for contemporary typography with a Gothic or blackletter theme.
What Are Some of The Characteristics of The Blackletter Typeface?
We can say, Blackletter is typical "Old but Gold" font, and it can make your design be standout. Here are some of the characteristics of the Blackletter typeface.
Blackletter has a unique look, it looks old, but now you can see it in a modern version.
Each letter has its accessories similar in shape to a hat.
The impression that this font gives is complicated and crowded because it has too many decorations.
6 Best Recommendations for Blackletter Font
After you read the explanation about what is blackletter font and its characteristics, here are some of the best modern blackletter fonts that you can find easily on the internet
1. Anglewish Font
Anglewish font is a blackletter font that has a bold shape with elongated and small accessories. It's more like classic European Handwritten. In addition, it is suitable for a signboard for any vintage store.
2. Angel Rhapsody
Angle Rhapsody is a blackletter font with a sharper shape at the edges. Two dots make this font very distinctive on the first letter of each word. Thus, you can make it for any design project which its gorgeous looks.
3. Rademos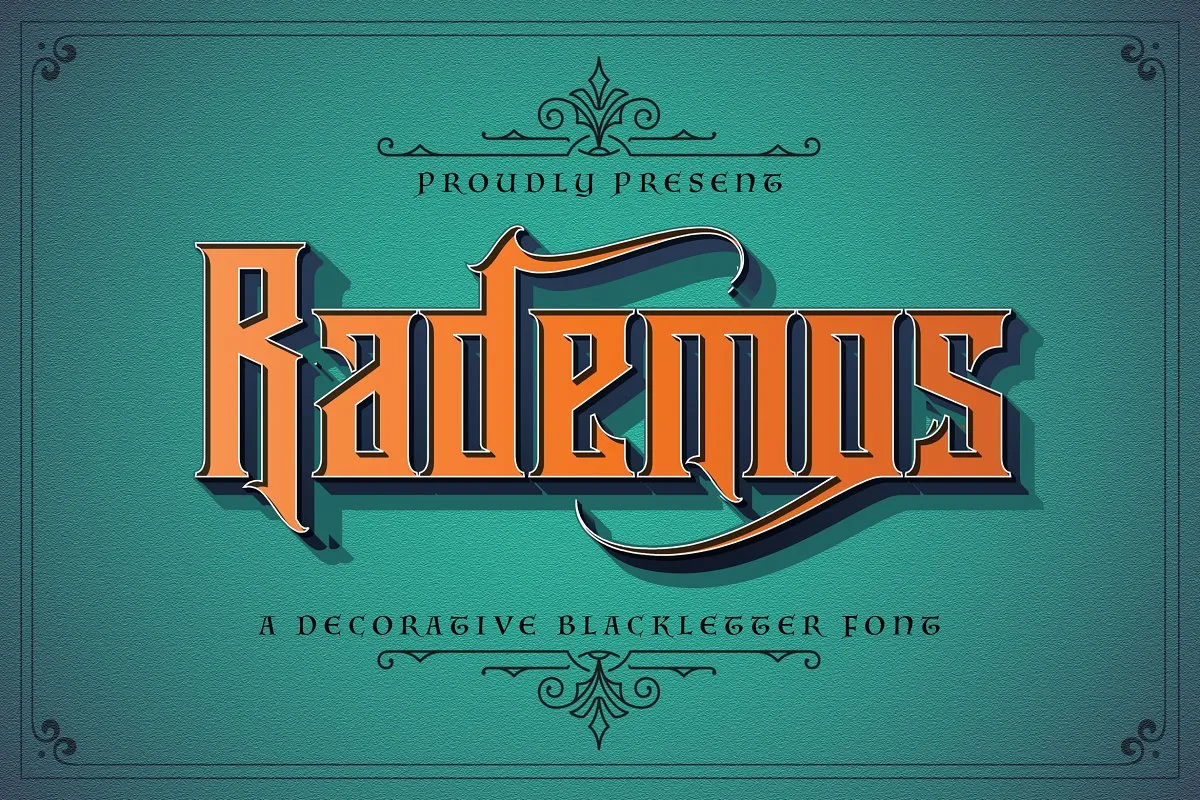 Rademos, at a glance, is similar to Angel Rhapsody. However, it is a bit firmer and more decorative, with additional curved accents in some letters.
4. Hellios Gothic
Hellios Gothic is a distinctive Victorian blackletter font. The shape of the letters seems more rounded at the ends giving it a unique magical feel.
5. Hadfim
Another blackletter font with a Victorian style is Hadfim. This one looks simpler but leaves a less vintage impression with a firmer curvature of the letters.
6. Fancy Quiesley
Fancy Quisley is a Modern Blackletter font with tight corners in each letter's indentation. It is fancy yet able to give a unique feeling to your decent projects.
Hard To Find Any Blackletter Fonts?
So that's all about blackletter fonts that you should know. Still hard to get blackletter fonts that fit your design? Don't worry! Just explore your fonts at Stringlabs Creative. This place has everything you want. In addition, the collections are massive and you can buy it for only $29. So, let's find your preferred blackletter fonts now!