You agree that serif fonts clearly provide some distinctive personality in visual designs. However, the opposites, particularly, the futuristic sans serif fonts trend still climb the ladder of being popular in the industry. This article listed out some of the picks of it to your table. Take a look and get your choice!
Picks out of These Latest Sans Modern Futuristic Fonts
Futuristic fonts are not only a stunning pair as website elements. But you can also put and apply them in other design projects. However, you need to select the choice according to the design themes. Let's uncover the list down below.
1. Superbolt
This first selection shows you a strong techno profile in each of its characters with bold weights and quite wide widths. If you are looking for quirky sans-serif fonts that look good for UI design or title text, Superbolt is the first to consider. 
Also Read: 15 Retro Bold Font, Special List for Vintage Lovers!
2. Welingtom
This second choice of futuristic display font has a bit of a serif touch. Wellington features a classic yet casual look which makes it look formal. Yet, it has intact monoline characteristics in its glyphs. 
Both combinations create a somewhat innovative typeface, suitable for various kinds of creative design with sci-fi, techno, or futuristic themes.
3. Queental
Futuristic does not always mean stiff lines to create mysterious feelings. Some touch of elegance in Queental adds a strong professional and modern concept. Those attributes make this one of the futuristic sans serif fonts with eye-pleasing and high readability as text elements for your designs. 
4. Roguedash
Dare to combine sporty with techno themes in one design? Roguedash has it all! Coming up with all-caps glyphs, this typeface has a strong and stylish presence. 
Also Read: 10+ Cute Handwritten Font Most Elegant and Flowing
5. Super punch
One in this list that looks good in neon design is Super Punch. The characters come consistently in both width and weight, it looks bold but still readable. Aside from UI design, you can put this typeface as subtitles or body text in your design projects. 
6. Aginoe Sans
Aginoe Sans might appear as an ordinary sans serif font. Yet, this sans-serif typeface manages to be different with a combination of its wide widths and thin weight. It has clean and ultramodern attributes that are fitting for diverse design projects that incorporate sleek and modern elements. 
7. Super Maizen
The following font is also categorized as a display sans serif. The reason is that Super Maizen glyphs are stylistic with atypical letter shapes. With simple installation and support for popular systems of operation and design software, you can use this typeface for extensive design, including websites. 
8. Fun Games
Bold stylized glyphs' attributes are presented in Fun Games! This typeface combines a sans modern futuristic font with a sporty appearance in the characters, numbers, and also punctuation. Applying this font for magazines, posters, and also advertising will surely catch the attention.
Also Read: 20 Coolest Blackletter Fonts to Make Your Design Stand Out
9. Technora
Technora has those characters that seem unfamiliar yet attractive at the same time. Consequently, this typeface with a techno-feel approach is an ideal selection for logos, posters, and product design elements. 
10. Phoenix Gaming
Contemporary visual or graphic design projects need Phoenix Gaming in them! It offers you an unordinary pack of lettering that is versatile for futuristic sporty, masculine, casual, and also elegant design themes. 
11. Star Jedi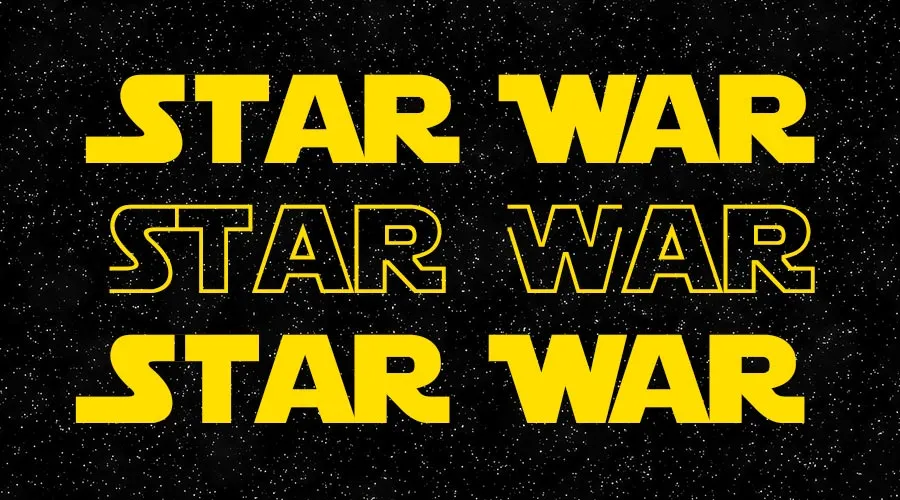 Star Jedi offers you the alternative futuristic feel that you can get from that popular movie. With bits of swanky letters, you can create a techno visual impact in your designs, mimicking the Star Wars ambiance. The glyphs have 4 variations you can use freely, from regular, outlined to hollow style. 
Also Read: 15 Best Chalk Fonts Most Unique to Any Design Idea
12. Game of Squids
Looking for free futuristic sans serif fonts? Despite the free personal utilization term, Game of Squids is on the list on the reason for its detail. This typeface has that out-of-the-box form in the lettering which somehow highlights that futuristic and mysterious tone. 
Why Use Futuristic Sans Serif Fonts in Design Projects?
References suggested that sans serif in general is the future of typography. With a broad range of categories, this font offers readability and flexibility. Besides the attractiveness, most of the futuristic sans serif category provides a strong contemporary look that matches the digital designs. 
You can go to the StringLabs Creative official website to personally choose the futuristic fonts that you need. A corporate license bundle is currently available for large-scale necessity! So, let's choose the one you need now!